Kenya: Amnesty International Condemns Kibera Demolitions

23 July 2018
The Nation (Nairobi)
Kenya: Amnesty International Condemns Kibera Demolitions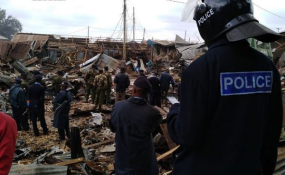 Police officers supervise the demolition of illegal structures in Kibera, Nairobi on July 23, 2018.
A human rights group has condemned the ongoing demolition of illegal structures on a road path in Kibera slum, Nairobi.
Amnesty International (AI) on Monday called on the government to "immediately stop" the demolitions and first complete the listing and resettlement of all affected people, estimated to be around 30,000.
"The goal of adequate and dignified housing cannot be met by stripping the 30,000 inhabitants of the only housing, shops, clinics and schools they have. Demolition prior to the completion of the Resettlement Action Plan betrays the public trust and violates our laws. These forced must be halted," said AI in a statement to newsrooms.
The groups executive director Irungu Houghton said the demolitions breached an agreement reached by Kenya Urban Roads Authority, Kenya National Human Rights Commission and National Lands Commission to resettle the affected residents.
Under the agreement, the process of listing the residents who live in four Kibra villages namely; Mashimoni, Lindi, Kambi Muru and Kisumu Ndogo began last week.
The group said the demolition of the homes, schools and business premises violates Kenya's national and international human rights obligations.
Kibera Pupils Stranded After School's Demolition
Two primary schools were among the structures demolished in Kibera slums early on Monday morn ing as the government… Read more »
Previous Story
Amnesty International Condemns Demolitions at Kibera
Next Story
Kibera Pupils Stranded After School's Demolition
See What Everyone is Watching
Copyright © 2018 The Nation. All rights reserved. Distributed by AllAfrica Global Media (allAfrica.com). To contact the copyright holder directly for corrections â€" or for permission to republish or make other authorized use of this material, click here.
AllAfrica publishes around 800 reports a day from more than 140 news organizations and over 500 other institutions and individuals, representing a diversity of positions on every topic. We publish news and views ranging from vigorous opp onents of governments to government publications and spokespersons. Publishers named above each report are responsible for their own content, which AllAfrica does not have the legal right to edit or correct.
Articles and commentaries that identify allAfrica.com as the publisher are produced or commissioned by AllAfrica. To address comments or complaints, please Contact us.
Source:
Google News Kenya
|
Netizen 24 Kenya