Kenya race row supermarket Chandarana Foodplus defies governor

Kenya race row supermarket Chandarana Foodplus defies governor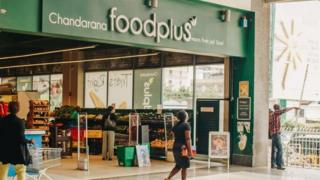 A Kenyan supermarket has defied an order to close after being caught up in a race row.
An email leaked on social media showed it was launching a marketing campaign to target white shoppers.
The governor of Nairobi then directed that the trading licence for Chandarana Foodplus, the country's oldest supermarket, be revoked.
The retailer apologised after a backlash on Twitter, but its stores remain open.
Chandarana Foodplus blamed the blunder on new staff whose English was poor.
The offending email said: "We are delighted to inform you that our supermarkets chain, would like give you free gift vouchers to winner/raffles/best performer/runners-up candidates in your upcoming events. As we are now focusing on white people to attract our supermarkets."
You may also be interested in:
Why Kenya 'always wins' its Twitter wars
#UhuruChallenge: Kenyans mock president for launching projects
The Kenyans who attacked Robert Mugabe on Twitter
Nairobi Governor Mike Sonko sent a statement to newsrooms on Sunday saying that he had ordered county officials to close down Chandarana Foodplus branches in the capital the following day.
However, local media are reporting that business is going on as usua l at the 13 stores in the city.
Skip Twitter post by @BreakingNewsKE
BUSINESS as usual at Chandarana Supermarkets despite Sonko announcing cancellation of its licenses over 'racial bias'. pic.twitter.com/GbImqqtf1K

â€" CapitalFM Breaking News (@BreakingNewsKE) July 30, 2018
Report
End of Twitter post by @BreakingNewsKE
The legality of Mr Sonko's directive has also been questioned.
"That action is not legal. There must be due process. They should have been summoned for a hearing before taking action," constitutional expert Nzamba Kitonga told the Daily Nation newspaper.
The supermarket posted a statement on Twitter saying that the incident came as "a severe embarrassment".
But the apology has failed to assuage some Kenyans on Twitter.
Skip Twitter p ost by @mojemccreadie
Nice apology letter but damage is already done.The fact that you have an employee that can write such an email says so much about the companies focus on racial profiling.very sad.

â€" James Mccreadie (@mojemccreadie) July 28, 2018
Report
End of Twitter post by @mojemccreadie
Source:
Google News Kenya
|
Netizen 24 Kenya