Highpoint Health Sends Retired Surgical Equipment To Kenya


News Home
More from Local News
Thursday, August 16th, 2018 2:39pm
By Highpoint Health, news release
The equipment, which was no longer used by Highpoint Health and will serve a better purpose in Kenya.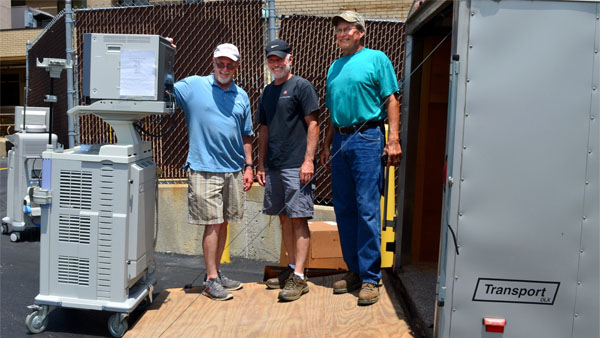 Sam Carr, John Wolpert and Rex Martin (left to right) load retired surgical equipment, donated by Highpoint Health. The equipment is being contributed to the Brase Clinic in Kenya. Photo provided.
(Lawrenceburg, Ind.) - Hig hpoint Health recently donated surgical equipment and related items retired from service to the Brase Clinic and Vision Center in Migori, Kenya. The equipment, which was no longer used by Highpoint Health, was welcomed by the medical and clinical staff of the Brase Clinic.
The equipment transfer was the idea of Susie Martin, FNP, a Family Nurse Practitioner with Highpoint Health Physician Partners, who cares for the residents of Shady Nook Care Center and Pine Knoll Assisted Living. She approached Michael Schwebler, Highpoint Health President and CEO, this spring about donating the retired equipment to the Brase Clinic. Mr. Schwebler approved the donation and Mrs. Martin researched which items would be available for transfer.
Highpoint Health donated a bronchoscopy cart; several General Electric DinaMaps which monitor patient vital signs during and after surgery; several surgery buckets; a phacoelmusification machine for cataract surgery and a Hewlett-Packard vit al signs monitor. Also donated for the Brase outpatient clinic were two large analog scales.
Mrs. Martin is a friend of Steve James, CRNA, a retired nurse anesthetist and the founder and CEO of the Brase Clinic. The clinic and hospital serve more than 1,700 patients annually. Mr. James and his organization also have built an orphanage, a grade school, a working farm and a sports complex.
She then recruited her husband, several friends and co-workers to assist her in transporting the equipment. Connie Cecil, RN, MSN, CNOR, Highpoint Health Surgical Services Director, and the hospital's Biomedical Engineering Department helped facilitate the transfer of equipment. Others who assisted were Matt and Sandra Jones, the owners of Shady Nook Care Center; Rex Martin, Susie's husband; and Rex's friends John Wolpert and Sam Carr, the husband of Highpoint Health Human Resources Manager Eva Carr. Mr. Martin took the last step by taking the equipment in his truck and a trailer to Wayne, Michigan, near Detroit, where the items were loaded onto a supply ship headed to Nairobi, Kenya.
"I am grateful to Mr. Schwebler for giving me the green light to proceed with this project. I also want to thank Connie Cecil for her help," Mrs. Martin explained. "Connie and I took photos of the equipment in storage and she communicated directly with Steve James to clarify what equipment the Brase Clinic could use. She then compiled the list and Biomed checked everything for operational status, parts and worthiness.
"Connie was an integral part of this endeavor," said Mrs. Martin. "Since she is extremely knowledgeable of the OR and all surgical equipment, she was able to identify which items were available and in working order. We couldn't have pulled off this project without her valuable guidance!"
"We also are grateful for Sam, John and my husband, Rex, who helped us move the equipment, and for Matt Jones, who all owed us the use of his trailer," Mrs. Martin continued.
"None of this would have been possible without the expertise and generosity of everyone involved," Mrs. Martin added. "I am sure the equipment will be much appreciated by the medical professionals and their patients in Kenya."
More from Local News
Photos Help Coroner ID Body Found Along I-275

The body was found August 1 near the I-74 interchange in Colerain Township.

Campground "Family" Raises Money For Wounded Warriors

A big auction was held at Indian Lakes Campground on August 11.

DCF, City Of Lawrenceburg Help Put AED's In County Sheriff Patrol Cars

Twenty-eight Dearborn County Sheriff's deputies will soon carry life-saving defibrillators for the first time ever.

Rate Hike In The 'Works' For Greater Cincinnati Water Customers

City council is considering putting the proposal up for vote.

NKY Health Department Declares Hepatitis A Outbreak

One particular case has health officials worried.

Senator Joe Donnelly Still Unsure About Trump's Supreme Court Nominee

Indiana's Democratic U.S. Senator recently met with Judge Brett Kavanaugh, but stopped short of supporting him.
Source:
Google News Kenya
|
Netizen 24 Kenya