Kenya: Espionage in the service of animals


We use cookies to improve our service for you. You can find more information in our data protection declaration.
More info OK
Inhalt
Navigation
Weitere Inhalte
Suche
Choose from 30 Languages
Albanian Shqip
Amharic አማርኛ
Arabic العربية
Bengali বাংলা
Bosnian B/H/S
Bulgarian Ð'ългарски
Chinese (Simplified) 简
Chinese (Traditional) 繁
Croatian Hrvatski
Dari دری
English English
French Français
German Deutsch
Greek Ελληνικά
Hausa Hausa
Hindi हिन्दी
Indonesian Indonesia
Kiswahili Kiswahili
Macedonian Македонски
Pashto پښتو
Persian فا رسی
Polish Polski
Portuguese Português para África
Portuguese Português do Brasil
Romanian Română
Russian Русский
Serbian Српски/Srpski
Spanish Español
Turkish Türkçe
Ukrainian Українська
Urdu اردو
Wrong language? Change it here DW.COM has chosen English as your language setting.
Global 3000
Kenya: Espionage in the service of animals
Poaching is a global industry. Poachers often form networks much like militant groups. Faye Cuevas used to work for the US military, fighting militants. She's now using her expertise to protect Kenya's elephant population from poachers.
Watch video 05:50 Now live 05:50 mins.
Date 07.09.2 018
Duration 05:50 mins.
Homepage Global 3000 - The Globalization Program
All videos Global 3000
Related Subjects Kenya, Wildlife trade and trafficking
Keywords Kenya, animal welfare, poaching, IFAW, elephants, tenBOMA
Download Save MP4 file
Embed Embed video
Send us your feedback.
Print Print this page
Permalink https://p.dw.com/p/34SeT
More in the Media Center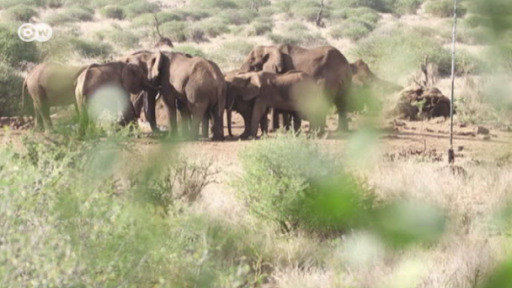 Maasai save Kenyan elephants 19.05.2017
Global 3000 - The Globalization Program 30.08. 2018
Info-film: What is a forest and what is it for? 28.08.2018
Rural health care in Ghana 24.08.2018
More from Global 3000
Georgia: Global Teen 07.09.2018
Lombok: Island paradise reduced to rubble 07.09.2018
Global Snack: BBQ in the Caribbean 07.09.201 8
Mexico: Monitoring in the Selva Maya 03.09.2018
More from Global 3000
Global 3000 - The Globalization Program 31.08.2018
Stranded in Agadez 31.08.2018
Cairo's makeover 31.08.2018
Improving land management in Nepal 30.08.2018
Re ad also
Internet provides vast platform for illegal trade of live animals 23.05.2018
A fresh study by the International Fund for Animal Welfare has highlighted the vast quantity of live animals and their body parts that are available for sale online and the threat this poses to their survival.
Maasai protect Kenyan elephants 18.05.2017
Human encroachment is endangering grazing elephants at home in the foothills of Mount Kilimanjaro. But neighboring Maasai and safari tour operators are teaming up to protect the animals.
Can trophy hunting really help species survival? 17.11.2017
When the US announced plans this week to allow the import of elephant trophies, global outrage echoed loud, and President Donald Trump soon put the decision 'on hold'. But are there arguments for controlled slaughter?
Welcome to this week's eco@africa 19.01.2018
Join us in western Uganda and see how to turn elephant dung into paper, see how scientists are trying to save Madagascar's lemurs and learn about upcycling waste from the Mediterranean. All this and more!
Source:
Google News Kenya
|
Netizen 24 Kenya