Kenya to deport Chinese man over 'racist rant'

Africa Africa Kenya to deport Chinese man over 'racist rant'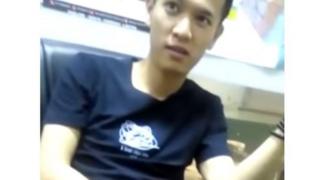 A Chinese man will be deported after a video emerged of him making racist comments, Kenya's immigration department says.
The man, indentified as Liu Jiaqi, was captured in a video calling all Kenyans, including President Uhuru Kenyatta, "monkeys".
Mr Liu and his representatives have yet to comment on the situation.
The authorities have revoked his work permit and say he will be deported on "racism grounds".
Africa Live: More updates on this and other stories
The Chinese making a new life in Africa
Should Africa be wary of Chinese debt?
Xi denies funding African vanity projects
An employee filmed Mr Liu, who is a motorcycle trader, saying that he disliked Kenya because it "smells bad and [its people are] poor, foolish and black".
When the employee asked why he wanted to stay in the country, the trader said he was only there to make money.
Police arrested him hours after the video was circulated online on 5 September.
It is unclear whether the immigration department can deport someone on grounds of racism.
According to the BBC's Anne Soy in Nairobi, the immigration department says they are processing the deportation, which might mean they are looking for something to charge him with.
Discrimination based on colour is against the law, she says.
In 2015, the owner of a Chinese restaurant in Nairobi was arrested after public outrage over the restaurant's policy of allegedly banning African customers at night.
The owner was charged with operating without a liquor licence and failing to meet public health standards, but nothing to do with racis m, our reporter says.
China has invested millions of dollars into Kenya in recent years, including a new railway linking the capital, Nairobi, to the coast.
President Kenyatta was in Beijing earlier this week to take part in the China-Africa cooperation summit where he said: "Kenya appreciates China's demonstrated commitment in supporting Kenya's development goals."
Top Stories
Trump official: 'I am part of the resistance'
An anonymous senior official says White House aides are working to frustrate the president's agenda.
6 September 2018
Trump calls anonymous editorial 'gutless'
5 September 2018
Historic India ruling legalises gay sex
6 September 2018
Features
US mid-term elections in eight charts
Why the Woodward effect damages Trump
French fishermen wary of scallops deal with UK
Video
Is now the best time to be a young American?
EU banks on last minute Brexit deal
Toronto shines light on rising stars
Could Novichok attack suspects be returned to the U K?
Land swap could bridge divide for Serbia and Kosovo
Can India work with 'unpredictable' Trump?
Elsewhe re on the BBC
Football phrases
15 sayings from around the world
Full article Football phrases Why you can trust BBC News
BBC News Services
On your mobile
On your connected tv
Get news alerts
Contact BBC News
Source:
Google News Kenya
|
Netizen 24 Kenya