Kenya cancels residential training as trip to face Ethiopia in Afcon qualifier nears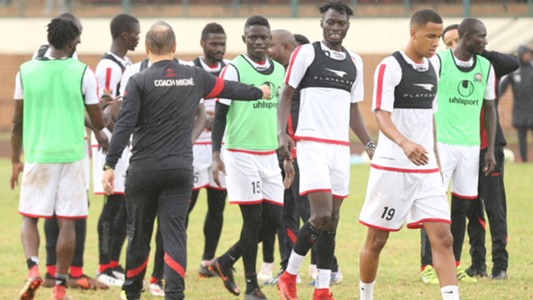 Goal Kenya. The move comes hours after the government promised to pay tickets for the team to honour the decisive match set for Bahir
Kenya have opted for a home and back training session as they prepare to face Ethiopia in an away match on October 10.
The move comes hours after the government promised to pay tickets for the team to honour the decisive match set for the 60,000-seater Bahir Dar Stadium in Bahir Dar.
Sports Principal Secretary Kirimi Kaberia told Goal on Wednesday that they can only afford tickets for th e team to Ethiopia and the federation to pay player's allowances and accomodation while camping in Kenya ahead of the away tie.
Editors' Picks
'I've been told I'm not allowed' - Pogba not speaking to media amid reports of Man Utd ban
REVEALED: Kenyan coach Sebastien Migne threatens to quit, gives FKF ultimatum
'I fully support Mourinho' - Valencia apologises after 'liking' Instagram post calling for Man Utd to sack their manager
Mathare United unveils new shirt sponsors ahead of next KPL season
"The government will only cater for the team's travel to Ethiopia. This includes tickets for the professionals named in the squad for the match. The rest, is for FKF to settle and make sure that the team is well treated before taking off."
When reached for comment, FKF Media Liasion Officer Barry Otieno wondered how the team will train for the important tie without the usual budget from the government and confirmed that they will only train and go home before the trip.
"The government says they will offer tickets for the team to travel to Ethiopia. First of all, the tickets are supposed to have been received by today (Wednesday) but as we speak, we have not received any ticket. We have asked the players to train on Thursday and then leave for home then return on Friday. The pros can only link up with the team in Ethiopia.
Article continues below
"We also don't know whether the tickets will have the names of all the foreign players named in the squad, or they will give half. It is a very tricky situation as we don't know what to do."
Goal also understands that top players Victor Wanyama and striker Michael Olunga could miss the Ethiopia fixture. "We have not sent tickets to Olunga and Wanyama as required. They need tickets earlier enough to plan and as as we speak, we have not done the same."
Kenya stand a good chance of making it to the final of the Afcon after a 1-0 win against Ghana's Black Stars on September 8.
Source:
Google News Kenya
|
Netizen 24 Kenya